*Grabs phone, grabs keys…* "Oh shoot, my mask!"
Society is no stranger to fashion trends. While paying attention to the latest prints, patterns, colors, fabrics, nobody was ready for the new addition to our wardrobe — face masks. 
Some people are taking their masks to fashionable heights. 
On Mar. 11, the World Health Organization (WHO) declared COVID-19 a pandemic as a result of its rapid spread. 
The WHO recommends everyone wear masks in an effort to protect oneself from spreading the virus if they are sick, or to lessen the chances of catching it if exposed to somebody with COVID-19. 
With the school year starting, here at Elmhurst University we have seen students pull out their best masks yet to make a statement while staying safe. 
1.Animal Print Masks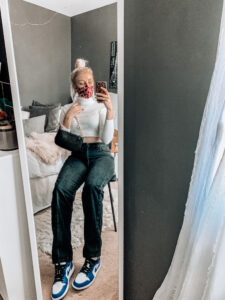 Ellie Asa, a senior communications major, is making the best out of her senior year despite the way COVID-19 has altered the track of the school year. 
Coordinating a stylish mask with an outfit makes her feel more put together as she attends her classes in-person. 
"I support the new mask trend because as long as we have to wear something, we might as well make it a new accessory and make it cute!" said Asa
Pictured below is a pop of pink added to her street-style inspired outfit. 
2. Designer-inspired Masks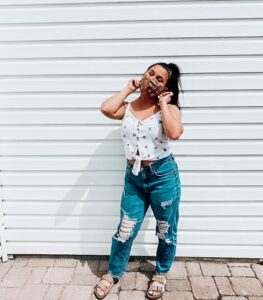 Alyssa Berger, a senior communications major, is enjoying her high-end fashion inspired masks that she ordered online. 
Berger likes to inspire others with her fashion and sharing where she gets her unique masks.
Berger is studying remotely, but whenever she goes out she searches for nice outfits to pair with chic masks. 
"Wearing a mask can be difficult, but when I wear mine, I know I am protecting myself and others," Berger said "as well as looking fashionable too. 
3. Quotes on Masks
Almost everyone has heard of the ex-popular band, One Direction. Valerie Schallmo, junior communication sciences and disorders major, shows off her Harry Styles mask. 
Schallmo says she wears her masks to protect herself and others but also because her mask sends a message to everyone, to treat people with kindness, One Direction's former frontman Harry Styles' motto. 

4.Hand-made by Mom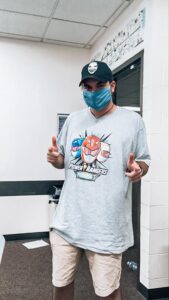 Not only do students want to make masks a fashionable and inspiring statement, but they also wear them because it was made by a loved one. 
Jordan Slonke, a senior communications major, is a wrestling-loving student who has a soft spot for his mom. 
Like the other students, he wears his mask to keep himself and others safe on campus and at work. 
What is different with Slonke, is that his mom made the mask for him. 
"My mom made it for me and I get to show off her hard work," said Slonke. 

5. Masks Made for Exercise
Athletes have been having trouble finding a mask suitable for their sport and exercising. 
Many athletes do not wear masks during practice, but the Faganel Hall dance studio requires attendees to wear a mask. 
Dancing and wearing masks creates a lot of sweat but Emma Byrne, a senior majoring in early childhood education, found a way around that. 
Byrne was able to purchase a mask made specifically for dancing and movement. 
"My dance mask isn't fun, but it's made by one of the big dance-wear companies and wicks the sweat away from my face and is a little more breathable when I'm dancing," said Byrne.