Relay For Life hosts end-of-semester pop tab fundraiser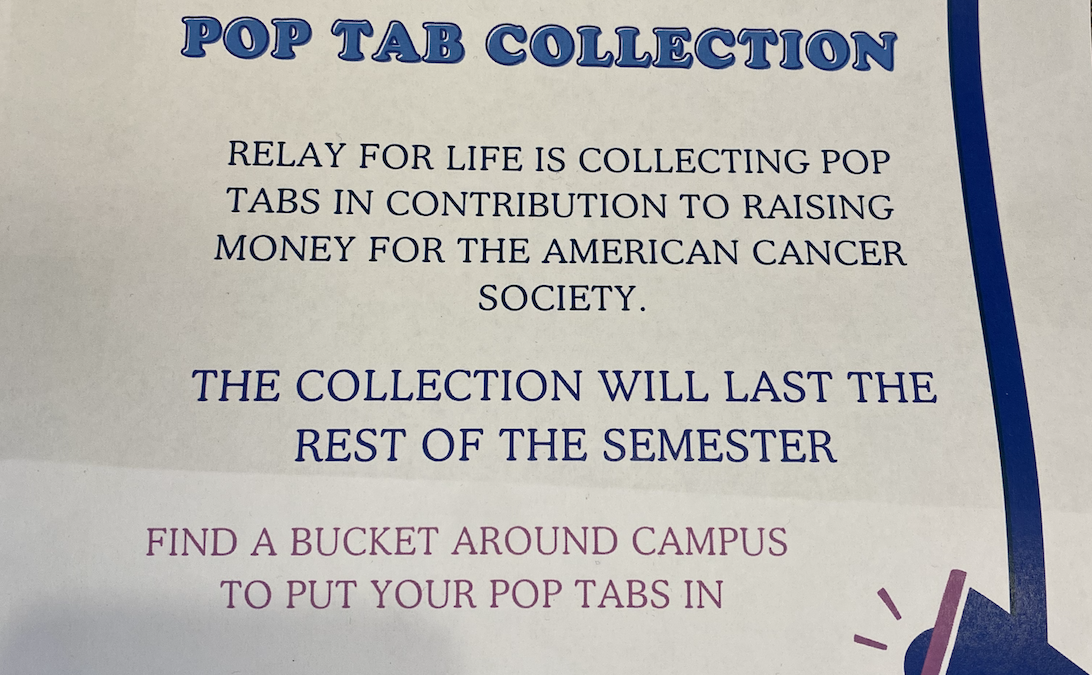 Relay For Life of Elmhurst University is running a collection of pop tabs to raise money for the American Cancer Society through the end of the fall semester.
Bluejays are encouraged to locate one of the five buckets the student organization has placed around campus and donate any extra pop tabs to help with fundraising efforts.
The buckets are located in the A.C. Buehler Library, Faganel Hall (Tyrrell Fitness Center), the Jean-Koplin Memorial Hall, the Schaible Science Center building, and the last one is waiting for approval to be placed in the Frick Center.
EU's Relay For Life Treasurer Itzel Cedillo emphasized how any donation helps, and while raising money for charity is paramount to the club's mission, they also want to raise awareness.
"We thought this would be a fun event for our Elmhurst campus community to engage with us and bring awareness to Relay for Life on campus," Cedillo explained.
"We would be happy to get $100, but it is probably more realistic that we are getting less than that, which I understand is not a lot; however, we wanted to prioritize getting our organization's name out there in time for our big event in the spring," Cedillo continued.
That big event in the spring Cedillo refers to is still in the works, but one Relay For Life looks forward to getting off the ground.
If approved, EU's Relay For Life team would be working in partnership with an organization called Be The Match, which helps connect patients in need with potential bone marrow donors.
"In this event, we are only providing access to getting tested if you would be a match with a patient and sign you up on the bone marrow registry," Cedillo clarified. "Afterwards, the organization would contact you if you do end up being a match with a patient, and you can decide if you want to donate."
Given that everything lines up, the event will take place early in the spring semester and is another opportunity for Bluejays to help those in need, as well as raise awareness for those who need bone marrow donations for various conditions.
Looking for more ways to help? Cedillo can think of a few.
"Spread the word!" Cedillo said. "Our Instagram handle is @elmhurst.relayforlife, and reposting and sharing can help bring more people up to date with what is happening with our organization."
Relay For Life of Elmhurst University has general committee meetings every Thursday and is always open to new members looking to stop by and collaborate on new ideas.