Alpha Mu Gamma invites elementary school students to campus to learn about Día de los Muertos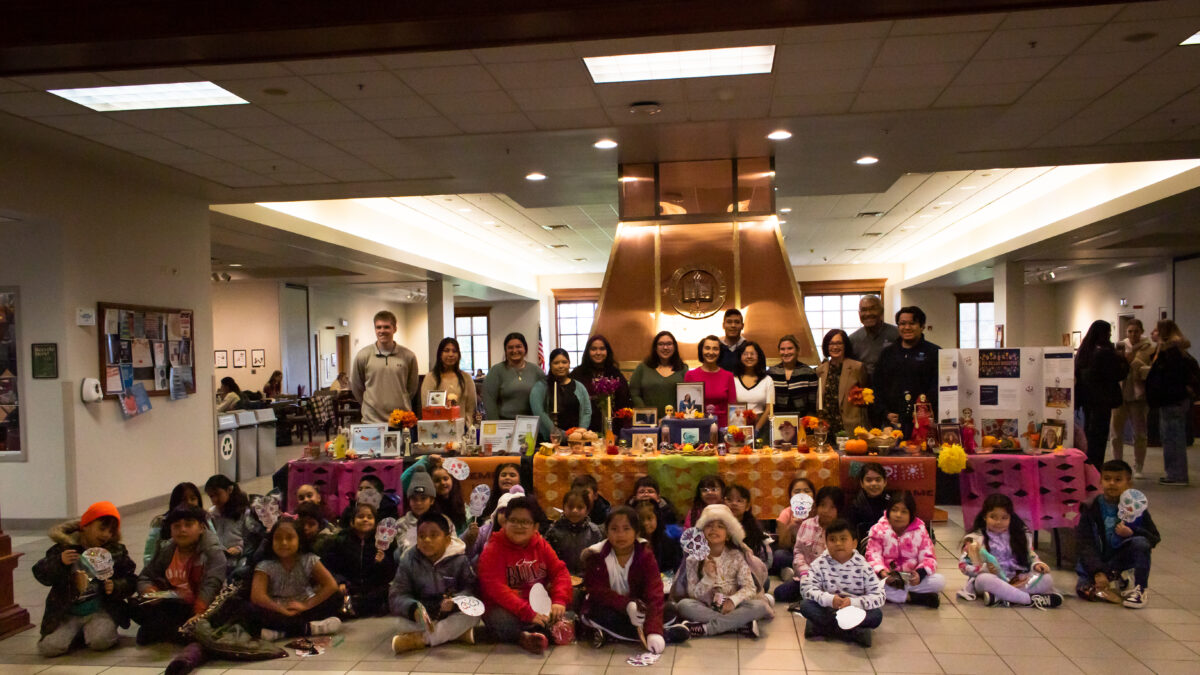 When Paul Sebedyn, marketing and social media coordinator of Alpha Mu Gamma, Elmhurst University's National Collegiate Foreign Language Society, saw a group of elementary school students looking at the ofrendas and altars on display on campus, he felt touched.
Sebedyn felt like there wasn't a lot of Hispanic and Latino representation where he went to high school, and he said that seeing the kids relate to EU's Día de los Muertos events, "Made my day."
"It was just very inspiring, and I just felt really happy because I'm going to be a future educator as well in the future, so I'm all about representation and just making sure that we're a multicultural society or classroom, so honestly, just yeah, I'm very touched by that," Sebedyn said.
Alpha Mu Gamma prepared ofrendas and hosted elementary school students from Bensenville Public School District 202 to come to Elmhurst University and learn about Día de los Muertos, Day of the Dead.
On Nov. 1, they hosted 45 second-grade students from Wesley A Johnson School, and on Nov. 2, they hosted 35 students from Tioga Elementary School.
The children participated in reading a short story, watching a short film and discussing it, decorating paper skulls, and an explanation of the ofrendas, all of which were led by Alpha Mu Gamma members.
Also, this year, the Latino Student Association set up an ofrenda in El Centro de la Promesa Azul in addition to the ofrendas Alpha Mu Gamma set up in the A.C Buehler Library and Founders Lounge.
Alpha Mu Gamma has been celebrating Día de los Muertos since 2013, and this was the third time they hosted students from the Bensenville Public School District 202 for the holiday.
Beatriz Gomez-Acuna, professor of Spanish, explained that EU has a strong partnership with the school district and offers a service learning opportunity through them.
She added that Alpha Mu Gamma's goal was to open their tradition up to the community.
"The idea is to open it up to the community to allow the community [like] DuPage and the sur- rounding communities around the university and bring them to that expanded knowledge of this cultural heritage tradition," Gomez-Acuna said.
"So, that's the goal that we had in mind, and then also of course for our students to provide the service to the students," Gomez-Acuna continued.
Alexi Littmann, vice president of Alpha Mu Gamma, explained that Alpha Mu Gamma is big on educating people on culture and language. She added that the group wanted to not only teach people about other cultures, but also make students feel represented.
"Bensenville has a large Hispanic and Latino population, and we wanted the kids to feel that they knew that they had somewhere to come in the future that wants to work with them … so I think that it was a great opportunity to interact with the community," Littmann said.
Littmann continued, "Not just the Elmhurst com- munity, but also the community at large that we serve, so I felt like it just was very meaningful for not only our students in the organization who are of Hispanic heritage but also for the students at Bensenville."
Gomez-Acuna reflected on this opportunity for both education and representation.
She explained that for many Alpha Mu Gamma members, it was an opportunity to display their culture; for EU students at large, it was an opportunity for those of Hispanic and Latino origin to feel represented.
For students of other heritage and/or traditions, it was an opportunity to learn, and for the el- ementary school students, it was a chance to show them that they belong and that college is for everyone.
Sebedyn touched on the need for Hispanic and Latino representation.
"I feel like we all need to be represented through different events, the curriculum, the books we read," Sebedyn said.
"It's important that if you have like a heavily Hispanic population, then the curriculum should represent that, we should have Hispanic authors in the books and the things that we see so that the students are exposed to various cultures," Sebedyn continued.
Ana Zaragoza, secretary of Alpha Mu Gamma, wanted the kids to understand the importance of celebrating and embracing their culture.
"I just want them to see how important the culture is and how important it is to represent and show it off, and show everybody how beautiful the culture is and hopefully broaden their cultural understanding of what Día de los Muertos is, and honestly I just really hope that they were able to enjoy the community at Elmhurst," Zaragoza said.
Gomez-Acuna said that a few departments helped coordinate the event. Service Learning provided funds to put together a goody box for the students, the Office of Equity and Inclusion provided money to buy cookies, and the Office of Admission made small T-shirts.
In addition, Gomez-Acuna shared that a couple of people who sent photos of loved ones to be displayed on the ofrendas sent emails thanking them.
"It's just really heartwarming for us to know that we are doing something that people are appreciating and that it's meaningful for them," Gomez-Acuna said.