Social pariah: how social media is impacting students on campus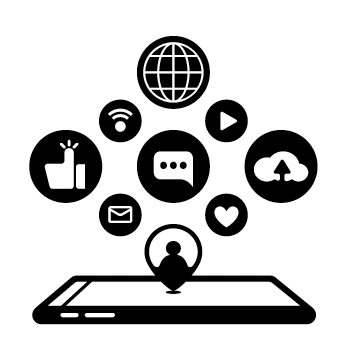 The students of Elmhurst University are scholars, artists, and future leaders. But, above all, we are the generation of the 'scroll.' Our mornings begin with the warm glow of our screens, as the constant feed on social media fuels our connections. 
In this digital tapestry, EU itself engages, making its presence known through Facebook and Instagram. We are the subjects, the content creators, and the audience. 
Social media becomes the stage where our drama unfolds, echoing the conversations, camaraderie, and controversies of campus life. In this article, we'll explore the multifaceted role of these platforms, diving into their impact on our campus and personal lives. 
To gauge the impact social media has on EU students, a survey was distributed via the community Snapchat Story, where viewers of the classes of 2024, 2025, 2026, and 2027 could respond.
First, it's worth noting that 100% of respondents in the survey said they use Snapchat, and a significant 86% mentioned being part of a student social media group. 
Snapchat has introduced a new feature — community stories for college students — which has brought both delight and controversy to campus life. The first controversy seen on this platform was the debate over whether or not to go to New Student Orientation. 
Some students said that it was not worth it to go, others said it depends on how one feels, and many others added how much fun they had at their orientation. These discussions might have been heated, but they did subside as orientation began. 
However, the most recent and most prominent controversy seen on the community Snapchat stories is the debate over campus parties. It became very apparent that asking about campus parties would not be met with positive feedback, leaving users across different classes to duel it out in an old-fashioned "flame-war." 
This public feud became well-known, from first-hand viewers or through hearsay, by many EU students. 
Junior Amina Malik feels that the feuds aren't necessary. 
"I think we're at that age that if we don't agree with somebody, we should just leave them alone," Malik said. 
However, not everything posted on this particular student platform is negative.
Many of the common posts seen on the community story are flyers for campus events or footage of the well-loved campus cat, Boots.
When asked if these social media student groups accurately represent the student body, 46% of respondents said "somewhat," 25% said "not entirely,"  and about 12% said "yes." 
This boils down to another platform that has made a resurgence on many college campuses, especially at Elmhurst. 
Yik Yak, a social networking app released in 2013, made a comeback in 2021 and allows users to post anonymously on a group forum within a five-mile radius. Similar to Snapchat, it offers a student forum. 
The major difference, of course, is the anonymous factor, and so Yik Yak has become another hotspot for controversy on campus, largely due to that factor. The posts range from memes to vitriolic comments about campus organizations, athletics, and even individual students. 
93% of survey respondents believe that the ability to be anonymous significantly influences how people post on social media. 
A recent example of this came following the football team's first CCIW conference game win. Some users on Yik Yak were less than impressed with one such user saying the "football team finally win and y'all still being negative," to which another user responded, "Fuck you and your shit ass team." 
This is a common occurrence on this particular platform. Other such posts range from the use of racial and homophobic slurs and misogynistic posts about campus sororities to making egregious claims about other students cheating on their partners. 
Only 35% of respondents said that they use Yik Yak, and 40% of respondents said that the ability to be anonymous does not impact the way they post on social media. However, 33% said that the ability to be anonymous does impact the way they post on social media. 
When asked overall about the type of impact social media has on one personally, 42% of respondents said that it has a negative impact on them, while 40% claimed it has a positive impact on them. 
81% of respondents said that they have considered deleting social media, but only 40% said that they have considered it due to recent happenings on student platforms.
It is apparent that social media has a relatively negative impact for students at EU, but for EU as an institution, 54% of respondents said that they believe social media has a positive impact. 
98% of respondents follow campus clubs and organizations on social media, mostly on Instagram and Facebook. Instagram was the second most used social media platform by respondents, with 98% saying they use it. 
The Office of Student Involvement, the Office of Admissions, and the official Elmhurst University Instagram posts highlight student life and involvement on campus. 
From the amazing feats of students in the performing arts, success at athletic events, community service from fraternities and sororities, and high academic prowess, social media is a great platform to demonstrate the variety of abilities students have at EU. 
Most respondents agree that posts made by campus-run social media pages accurately depict the student body, with 54% saying they're "somewhat" accurate and 30% saying "yes," they are accurate. 
Social media has made an undeniable impact on life as we know it, and it has made an impact on our campus. 
Senior Samantha Welko said social media "makes it easier to get to know people," but it also opens up ways for others to "anonymously bully people." 
The results of our survey reveal a diverse range of opinions about the role and impact of social media on Elmhurst students. While it has undoubtedly made it easier to connect and get to know one another, it has also opened the door to anonymous bullying and controversy. 
Students express concern about the negative impact it can have on their personal lives, while others believe in its power to depict the rich tapestry of achievements here at EU. 
When asked if social media overstepped by allowing student platforms outside of school jurisdiction to exist, 44% of respondents said "no," while 35% said "yes." 
Ultimately, we find ourselves at a crossroads where the allure of these platforms competes with the pitfalls they present. 
Social media is a powerful tool, one that can either uplift or undermine our campus experience. The responsibility, it seems, lies with us, the 'scrolling' generation, to harness this digital realm and make it a force for good in our journey at EU.