Sigma Kappa raises money for Alzheimer's with a lip sync battle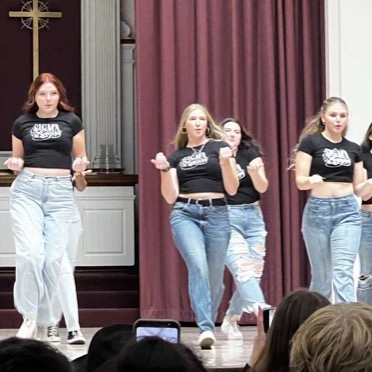 Sigma Kappa held their annual Pearl Jam event in the Hammerschmidt Memorial Chapel to raise money for Alzheimer's research on Oct. 25.
Junior Lydia Szydlowski, who was in charge of planning the lip sync battle, explained the cause behind the event.
"Pearl Jam was raising money for the Sigma Kappa Foundation, which primarily donates to Alzheimer's research and awareness," said Szydlowski.
Before the event, students could sign up with a prepared lip sync routine and compete against other routines in order to win a prize. It cost five dollars to compete and three dollars to watch.
Following each performance, spectators could give donations to "boost" that routine's score.
Pearl Jam turned out to be a success, and Sigma Kappa raised $534 for their foundation.
To start off, the sisters of Sigma Kappa performed their routine and got the crowd excited. In total, there were 10 numbers and routines. Some people performed on their own, while others performed in duets or groups.
At the end of the night, fraternity Alpha Sigma Phi performed, like they do every year, and took this year's first place slot, making it their fourth consecutive win.
Many of the routines were comedic and goofy but still helped Sigma Kappa raise money for charity.
Szydlowski enjoyed the time with her sorority sisters.
"The biggest takeaway for me is just having fun with my sisters," Szydlowski said. "It's a great way for us to get to know each other and especially our new members since we spend so much time practicing the dance that we perform at the beginning of the event."
Pearl Jam is one of the first big events that Sigma Kappa holds in the fall semester after recruitment. Szydlowski started planning for it before the semester started.
"I had the date picked out and the song I wanted to do at the beginning of August, and then started working on the choreography for our group in September, and then started teaching it to my sisters at the beginning of October," Szydlowski said.