Most of EU's Wikipedia page allegedly written by the same person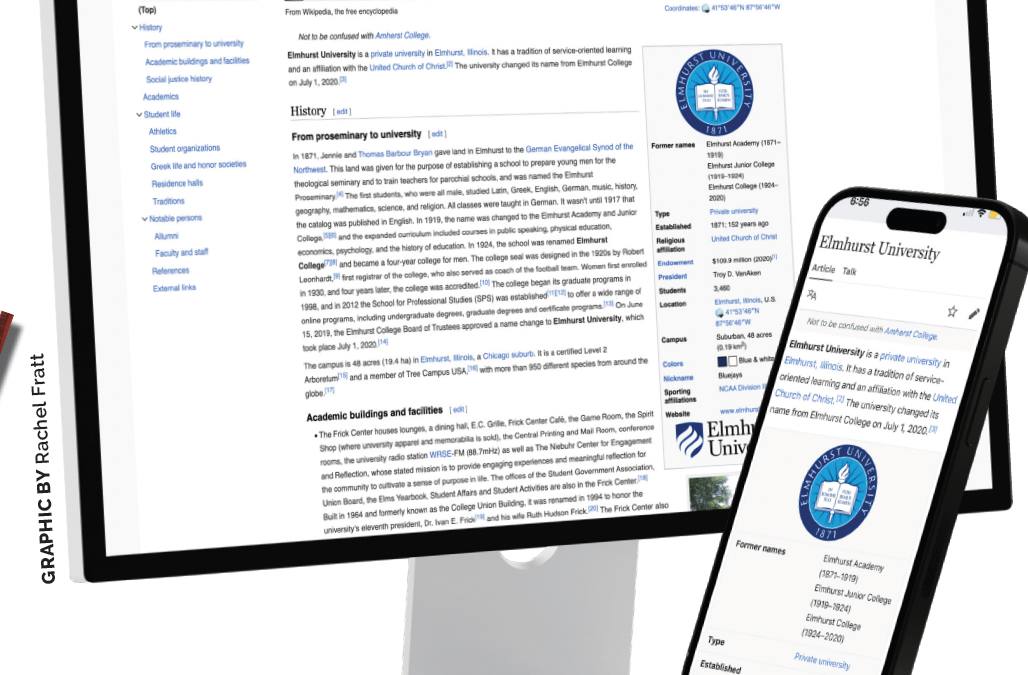 From Aug. 5, 2015, to Aug. 19, 2022, a user by the name of Paul1580 made multiple consecutive edits to the Elmhurst University Wikipedia page, frequently adding and removing information about the university's history, traditions, programs, notable alumni, and miscellaneous features. 
Though the credibility of the information Wikipedia provides to millions of users every day has been repeatedly called into question, it is a misconception that just anyone can edit any page on the site. 
Administrators on Wikipedia can provide varying levels of protection to pages more prone to vandalism, preventing most users from editing these pages until they have created an account and logged a specific number of edits. 
EU's Wikipedia page is not currently under any level of protection. Despite this, the page has experienced relatively low amounts of vandalism, aside from alumni of the university attempting to add themselves to the page's "Notable persons" section. 
However, scrolling through the edit history for EU's Wikipedia page reveals something much more interesting — Paul1580 consecutively editing the site. 
XTools, a site that provides statistics pertaining to Wikipedia pages, offers even more revealing information. According to XTools, roughly 53% of the current information on EU's Wikipedia page is attributed to Paul1580. 
Furthermore, the site's "edit counter" tool indicates that Paul1580 has made over 700 edits to EU's Wikipedia page, in addition to adding information to the pages of EU alumni and faculty, as well as a page for "Hauptgebaude" — better known as Old Main. 
Although Wikipedia allows editors to create "user pages" to share information about themselves, Paul1580 has yet to make use of this feature, making it unclear whether this editor is actually a graduate, former faculty member, or even current faculty member of EU. 
As Paul1580 has been inactive on Wikipedia since 2020, making only two edits in 2022, an interview with this individual was not feasible. 
However, as Wikipedia also allows users to directly communicate with each other via "user talk pages," Paul1580 has had many opportunities to offer more insight about themselves. 
Notably, on July 1, 2020, when informed about the capitalization of common nouns on Wikipedia, Paul1580 replied, "We were asked to wait until today to update our Wikipedia article" and noted that certain information about personnel and office locations was outdated. 
This led another Wikipedia editor to inquire whether Paul1580 had an affiliation with EU, as editing with a conflict of interest is strongly discouraged on Wikipedia. 
In response, Paul1580 stated that they simply wanted to help the article "remain accurate and verifiable" by adding more reliable citations. 
Although Paul1580 claimed to have "an association with the university," they also asserted that they had not been financially compensated for updating the article, and that contributing to Wikipedia was "an interesting hobby at most." 
As Wikipedia allows users to edit with almost complete anonymity, the identity of Paul1580 is significantly more difficult to determine. 
As always, it is important to keep in mind where information comes from, who is providing it, and what credentials they may possess. 
After all, it's entirely possible that Paul1580 is just another random person on the Internet. Then again, they might also be working for EU to this day, and there's a chance you encountered them on campus just the other day.