GOP candidates face off in round 2: gives the people a look into future events of the election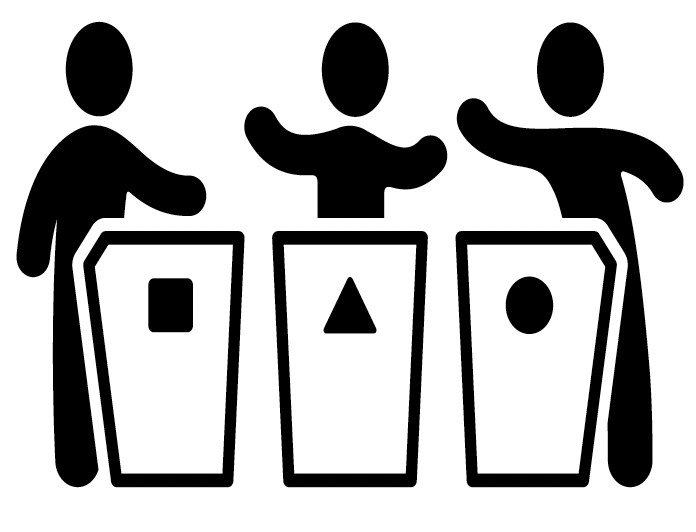 The second Republican primary debate for the 2024 presidential election took place at the Ronald Reagan Presidential Library in Simi Valley, Calif. on Sept. 27.
A total of seven candidates for the Republican nomination took the stage: Florida Governor Ron DeSantis, entrepreneur Vivek Ramaswamy, former South Carolina Governor and United States ambassador Nikki Haley, South Carolina Senator Tim Scott, former New Jersey Governor Chris Christie, former Vice President Mike Pence, and North Dakota Governor Doug Burgum.
Former President Donald Trump did not attend the debate, instead traveling to Michigan to speak with autoworkers. Trump previously declined to attend the first Republican primary debate in favor of an interview with political commentator Tucker Carlson. 
Former Arkansas Governor Asa Hutchinson, who participated in the first Republican debate, was ineligible for the second one.
The debate, which lasted just over two hours and was hosted by Fox Business, was moderated by political commentators Stuart Varney, Dana Perino, and Ilia Calderón. Each candidate received one minute to answer a question and 30 seconds per rebuttal.
Candidates debated a variety of topics, including abortion, border security, education, and the economy. The trailer for the debate acknowledged difficulties for Republicans that were not present during the Reagan administration, such as a Democratic incumbent and the unprecedented mugshot of a former president.
The first topic of the debate was division and instability within the U.S. However, the discussion quickly veered toward the economy and border security, with Tim Scott blaming Biden for an alleged fentanyl crisis.
Vivek Ramaswamy, who has expressed support for fracking and capitalism, stated that "victimhood is a choice" and suggested that workers should protest in front of the White House. Other candidates mentioned inflation and the national debt.
The discussion then turned to childcare costs, which prompted several candidates to mention past accomplishments from serving in office, as well as what immediate steps they would take if elected president.
When asked about a rise in crime, the candidates delivered a range of responses. 
Chris Christie, touting his record as a New Jersey attorney, promised to appoint an attorney general to confront crime, even in rural and suburban areas. Nikki Haley said law enforcement must be driven by more than just vocal support.
When asked about his inability to repeal Obamacare as Vice President, Mike Pence instead expressed a frustration with mass shootings and called for a mandatory death penalty for perpetrators of such crimes.
Candidates were then asked about the future of education in the U.S. and a decline in test scores. Many of the candidates expressed support for school choice, though they were divided on whether it should be decided on a state or national level.
Candidates then discussed the future of technology in the U.S. Christie stated that artificial intelligence offers "an extraordinary opportunity" to expand productivity, though also advocated for more available training. 
When Ramaswamy was asked about his use of TikTok and dinner with social media influencer Jake Paul, he explained his desire to reach a younger generation of voters.
When it came to the next topic, providing aid for Ukraine, candidates delivered a wide range of responses. 
DeSantis and Haley argued over whether the conflict is a territorial dispute, Scott insisted that the national interest is degrading Russia's military, Ramaswamy referred to Putin as an "evil dictator," and Christie pointed out the involvement of other nations, such as China, Iran, and North Korea.
As the debate neared its end, candidates delivered additional comments about abortion and strengthening the economy. 
Factual disagreements between Tim Scott and Nikki Haley led to a tense exchange between the candidates, with Scott stating that Haley had "never seen a federal dollar she doesn't like," to which Haley responded by telling Scott to "do [his] homework."
Doug Burgum frequently interrupted during the debate to clarify his own stances, occasionally criticizing the other candidates for not directly answering the questions. 
At one point, one of the moderators threatened to cut Burgum's mic. Despite this, Burgum was able to answer a question about how he would protect American farmers and ranchers from foreign governments.
At the end of the debate, the candidates were asked to write down a candidate to vote off, akin to "Survivor." Though DeSantis protested this activity, believing it to be disrespectful, Christie, who frequently criticized Trump for his refusal to attend the debate, wasted no time delivering his response.
Despite declining to appear at either Republican debate, Donald Trump remains the frontrunner for the party's nomination, holding a wide lead over all other candidates according to most polls.
The Democratic National Committee has yet to host a debate for the Democratic candidates, instead expressing support for Biden, who faces minimal opposition from members of his own party.
The first and second Republican primary debates can be viewed on YouTube, courtesy of Nikki Haley.