Dr. Antonio Ramirez speaks about Latino cultural influence on Chicagoland suburbs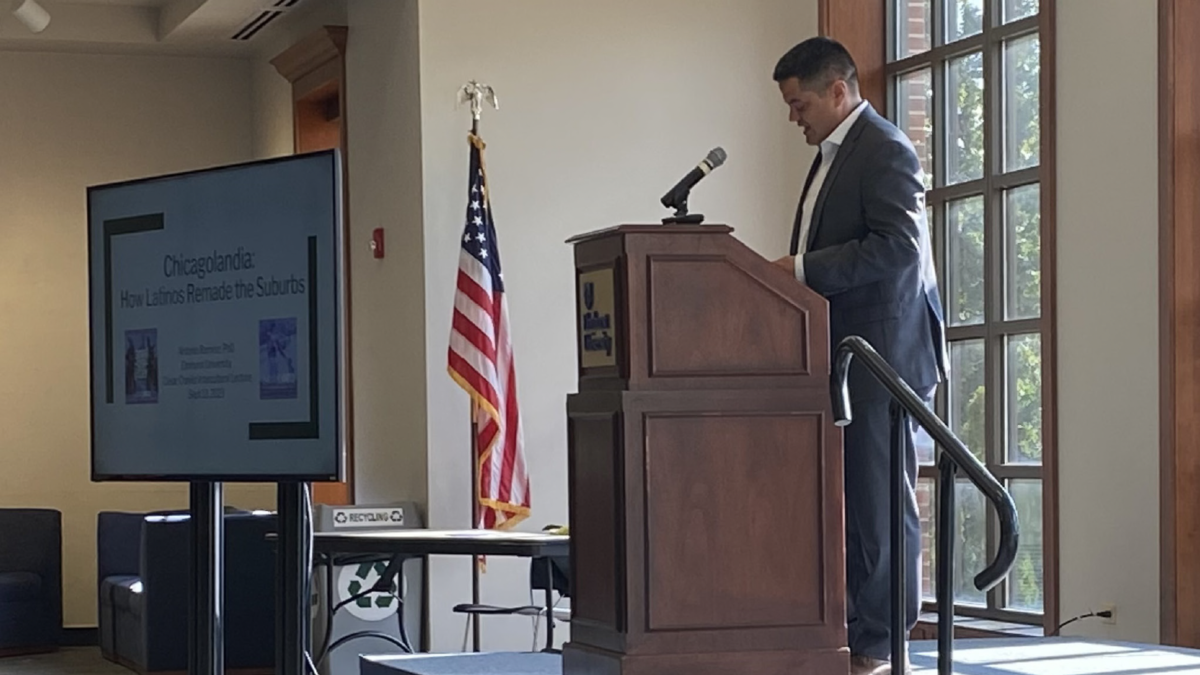 Dr. Antonio Ramirez gave the 27th annual Cesar Chavez lecture in the Founders Lounge on Sept. 13. 
When asked what it was like to speak at an event created by Cesar Chavez, he stated, "It's really a true honor. Like many Latino Americans, and I think like many Americans, he, his wife, and Dolores Huerta are all heroes — their American heroes." 
During his lecture, he spoke about many Latinos involved in the advancement of the suburbs, and some of the names he mentioned were Alma Nevarez and Roseondo Saucedo. 
Alma Nevarez is a janitor at Elgin Community College. She was born in Mexico and met her husband at a dance party, where they spent the night dancing. She first saw him when she worked in the draft office during World War II, and she thought he was the most handsome man she had ever seen. 
In the past, her family was hunted by the drug cartels in Mexico, so she applied for asylum in the United States, and worked many odd jobs before ending up at ECC. 
When asked what he learned while working on the Oral History Project, Dr Ramirez stated, "I learned the power of the stories of everyday people. We've often taught history, by sometimes they call it the great man approach to history, where, you know, we focus on kings, we focus on presidents, we focus on powerful people, but [what] I've subscribed to is this theory of history from the bottom up." 
He continued, "This idea that the lives and stories of everyday people, they don't have to be powerful, they don't have to be rich to be important and impactful." 
Rosenda Saucedo, aka "Mr. Overtime," worked over 80 hours a week. He was born in Mexico and was an anti-corruption activist where he protested against the government and drug cartels. 
During this time, he was arrested many times. Once, he was locked in a cage with a lion and was scared until he realized the lion was so old it could not really attack him. Due to these experiences, he asked for asylum in the U.S., and it was granted. 
While he was in the U. S., he was an activist for immigrants being allowed to get drivers licenses, better rights for immigrants, and many other things. In October 2020, he died of COVID-19 related complications. 
The lecture provided many facts about Latinos in the suburb communities. For instance, one-third of people in Kane County are Latino. Some towns have a Latino majority as well.
Ramirez also shared that Latinos are eight to nine times more likely to contract COVID-19, and that poverty rates have decreased for Latino children more than any other child. 
When asked what he wanted people to take away from his lecture, Dr Ramirez stated, "I think that because there has not been a lot written on Latinos in the suburbs, I want folks to take away basically that Latino people are here in the suburbs, and they are present actors in the history and the creation of the suburbs." 
"They are important to the economy of the suburbs, and they're going to be important to the future of the Chicagoland area," he said.