Barking mad: Elmhurst University's woeful lack of service dog awareness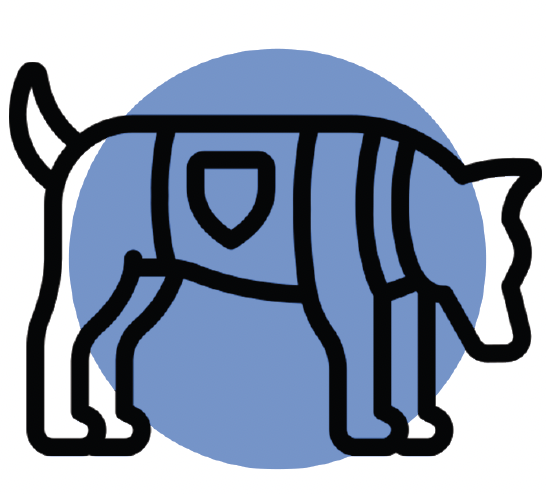 Elmhurst University: professors spouting lectures, the smell of overpriced coffee in the air, and the campus community's keen ability to collectively ignore one of the most glaring examples of diversity right under its noses. Or, in my case, right beside my feet — my service dog. 
Let me paint a picture for you: I roll into the classroom, and there he is, my little buddy, Jaffa, donning his service vest. Instead of curiosity, or maybe even a nod of acknowledgment, what do I get from my fellow students? 
Blank stares, whispering, and occasionally, the "oh-so-subtle" phone cameras pointed in our direction. 
Yes, ladies and gentlemen, it seems that despite living in an age where "inclusivity" is the flavor of the hour, the concept of a service dog on campus is about as understandable to some as the crypto market. It's time to talk about the woeful lack of awareness from the campus community. In this piece, I include ideas from me as well as other members of the campus service dog community. 
Who Needs 'Em?
First and foremost, let's clarify one thing: Not all individuals with disabilities can or should have service dogs with them at all times. Service dogs are carefully trained to assist with specific tasks, and not all individuals with disabilities require their constant presence. 
Some people may have medical conditions that preclude them from caring for a dog, while others may not benefit from the assistance that a service dog provides. 
So, let's not jump to conclusions or demand that everyone needs a service dog in tow. Instead, let's focus on creating a campus community that's aware, respectful, and accommodating for those who rely on these remarkable animals. 
What Even is a Service Dog? Is it, like, an ESA? 
Now, let's dive into the amazing world of "Emotional Support Animals" or "ESAs" (air quotes fully intended). Apparently, our campus community believes that everyone and their goldfish qualifies as an ESA.
Can't handle a tough exam? Get an ESA. Feeling down about that breakup? Get an ESA. Worried your roommate might be conspiring against you? Get an ESA.
In a regular "Noah's Ark" of emotional support critters, Jaffa stands out as a beacon of practicality, and yet, he's treated like the outcast at a kindergarten picnic. 
Oh, and let's not forget our dear faculty, who couldn't find the time to include a few words about service dogs in their "syllabus bible." So, every semester, it's a grand adventure of explaining my own rights and teaching the concept of "reasonable accommodations" to the poor souls who are supposed to be teaching us. 
And heaven forbid you actually attempt to educate someone about service dog etiquette. They look at you like you're asking them to crack the Enigma code. You'd think I was lecturing on quantum dynamics, not just reminding people that service dogs are not just "accessories." 
Validity: No Different Than a Wheelchair
While I'm airing out my grievances, let's not forget an issue that hits closer to home — the startling lack of acceptance within the broader disability community on campus. 
Yes, it's disheartening to admit that some of those who share the same struggles of accessibility here aren't as inclusive and understanding as one might hope. 
I've experienced it firsthand: the skeptical glances, the whispered doubts, and even the occasional outright rejection from fellow students with disabilities who can't fathom why I need a service dog. 
Some argue that I don't "look" disabled enough to warrant one, while others question the validity of my disability altogether. 
It's time to debunk a major misconception: A service dog is no less valid than a wheelchair when assisting individuals with disabilities. Let's lay it out plainly — disability takes on many forms, and the aids and accommodations required are equally diverse. 
A wheelchair is a widely recognized and accepted mobility device, but just because a service dog doesn't have wheels doesn't mean it's any less legitimate. Both are tools designed to address specific needs and enhance the quality of life for individuals with disabilities. 
Just as a wheelchair grants mobility to someone who might not otherwise be able to move freely, a service dog provides invaluable assistance with a wide range of tasks, from guiding those who are visually impaired to alerting those with medical conditions to impending health crises. 
The point is that the method may differ, but the objective remains the same — to empower individuals with disabilities to lead fulfilling lives. 
We need to extend the same level of recognition and respect to service dogs as we do to other assistive devices, recognizing their equal validity and the essential roles they play in the lives of those they serve. 
TL;DR
Campus life with a service dog involves navigating a maze of misinformation and misunderstanding. A service dog is not a trend, a toy, or a topic for your Snapchat story. It's a lifeline for people like me. 
So, the next time you see a service dog in your lecture hall or out on the Mall, remember this article and think twice before uttering, "is that, like, a pet?" Because this student with a service dog has had enough lack of awareness and is ready to bark back.