Adam Kinzinger advocates for democracy as the country becomes more polarized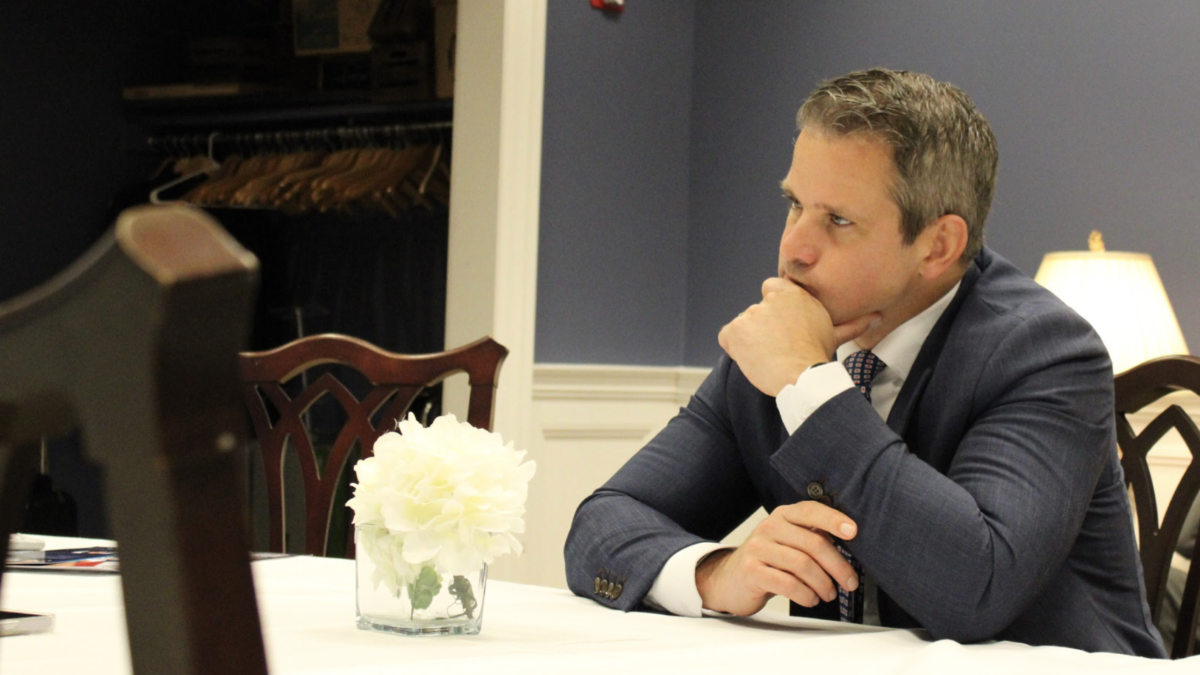 Elmhurst University invited Adam Kinzinger, former six-term GOP Congressman from Illinois, to talk at the Rudolf G. Schade Lecture on History, Ethics, and Law on Thurs., April 20.
In a conversation with Shia Kapos, a POLITICO reporter, Kinzinger discussed his experience and observation of the political divide that continues to threaten American democracy. Kinzinger also attended a panel with students before his scheduled lecture. 
At the Rudolf G. Schade Lecture on History, Ethics and Law, Kinzinger and Kapos were greeted with a large crowd of both students and members of the Elmhurst Community. 
While discussing the serious and sometimes heavy moments of Kinzinger's career in politics and the U.S Air Force, Kinzinger used comedy and optimism to keep the conversation light and entertaining. 
The former congressman spoke openly about why he became a politician, why he joined the Republican party, and his experience during the Capitol Riots on Jan. 6, 2021. 
During the conversation, Kinzinger defended his choice to join the Jan. 6 committee, noting, "I know my son will read about this one day and I know he will not be ashamed of his last name." 
At both the student discussion and the lecture, Kinzinger discussed how the Republican party changed into a party he no longer felt that he belonged in. 
Kinzinger noted that he felt "very politically homeless" because his ideals do not match those of either of the predominant parties in the United States. 
Kinzinger not only was one of ten Republicans to vote to impeach Donald Trump, but one of two Republicans on the select committee that investigated the Jan. 6 attack on the Capitol.
When discussing Trump's impact on the polarization of the country, Kinzinger said, "When a leader stands up, this is what Hitler did too, and speaks the dark parts of your heart back to you, that gives that darkness permission to overtake you." 
Kinzinger noted that Donald Trump and other far-right politicians are responsible for the Capitol Riots because of the conspiracies and misinformation they have spread. 
Jared Szaltis, a junior that attended the lecture, spoke about their experience at the lecture. 
"I thought it was a great opportunity for campus to hear from a recent congressperson. Even as someone who disagrees with him on many issues, I feel that he is helping push the issue that we as Americans need to stand together against the deepening divide and radicalism that is taking root in our federal government," said Szaltis. 
Recently, Kinzinger joined CNN as a senior commentator and has created a new political action committee (PAC) called Country First. This PAC empowers and gives resources to those who choose country over party and want to protect democracy by running for office in the United States.