Elmhurst University golf updates with new simulator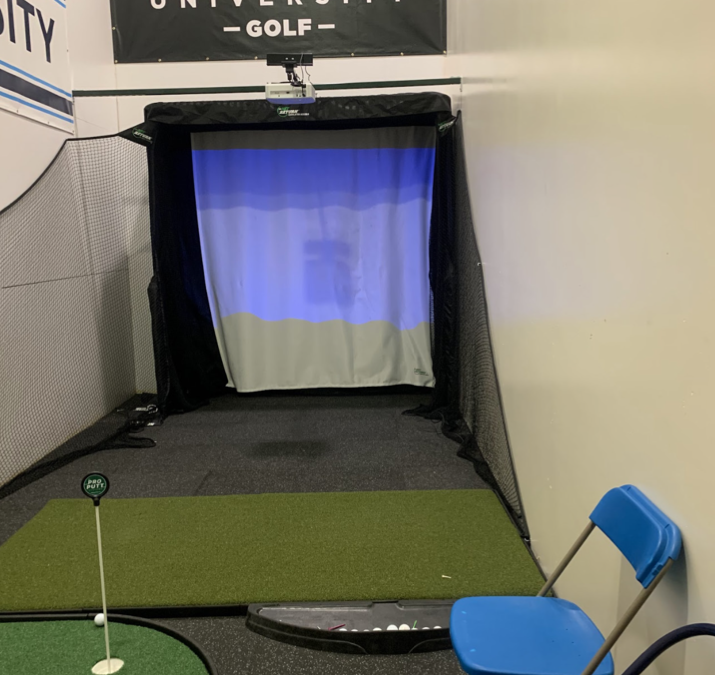 Freshman Steven Noack lines up his shot in a small room tucked away in Faganel Hall, and with a heavy thwap, a line of statistics rattles onto the surface as the virtual ball soars over the range.
The room is home to Elmhurst University's men and women's golf teams' new golf simulator. The room also includes a small putting area.
"After we do our team workouts, we'll break off and sometimes me and [teammate] Taylor [Fuchs] will come in here. It's just nice because one person can be hitting and the other person is putting," said sophomore Morgan Keller.
The golf simulator opened for the team in mid- February but was completely set up for the athletes' use in late March. 
Women's head coach Melissa Schwab has been working to get this simulator since she started her position in December 2021.
"When I got hired I said we need to get this on site because so many schools in our conference have it and both men's and women's programs need a place to practice on site for convenience and your experience and all the things," said Schwab. 
"I asked every two weeks until I got the yes," she continued.
The simulator uses advanced technology to accurately recreate the experience of playing golf. A high-speed camera captures every aspect of the golfer's swing, from the angle of the club's face to the speed of the swing.
The simulator then uses this data to create a virtual representation of the golfer's shot, including trajectory, distance, and spin. The data is then shown to the golfer on the screen, allowing them to immediately see exactly how they did and where they can improve.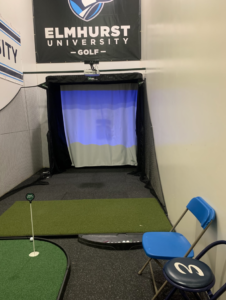 "It's nice to see numbers like that appear," said senior Drake Van Nostran, pointing towards the statistics still showing from Noack's earlier swings. 
"If you're a statistics person you can kind of see why left, why you're hitting the ball right. When you're outside it's kind of just all in your head; when you're in here you get in-depth numbers," he continued.
This doesn't stop the golfers from getting on the course to practice. Keller said she prefers the course because it gives her more a natural feel, but the simulator allows the team to get their swing work in no matter the weather and without driving to expensive private simulators.
"With weather, and stuff like that, with snow and being really cold, you obviously can't go out and play the course, so it's just nice to have the resources here on campus," said Keller.
"As a senior, I've been wishing for this for a long time," said Van Nostran. "I've had multiple meetings with multiple people about this, so seeing it come to fruition has been really cool."
Van Nostran continued to say how the inclusion of the simulator has been beneficial for more than team performance.
"We use it more than a golf area too," said Van Nostran. "A lot of the guys' team, we come in here and do homework, we hang out and talk. It's kind of been a group-building activity to get to know each other better."
"With a young team, a lot of sophomores and freshmen, it's been cool to get to know everybody a little bit better and have our own space to do it," he continued.