A time for firsts: Elmhurst University's 2023 TEDx event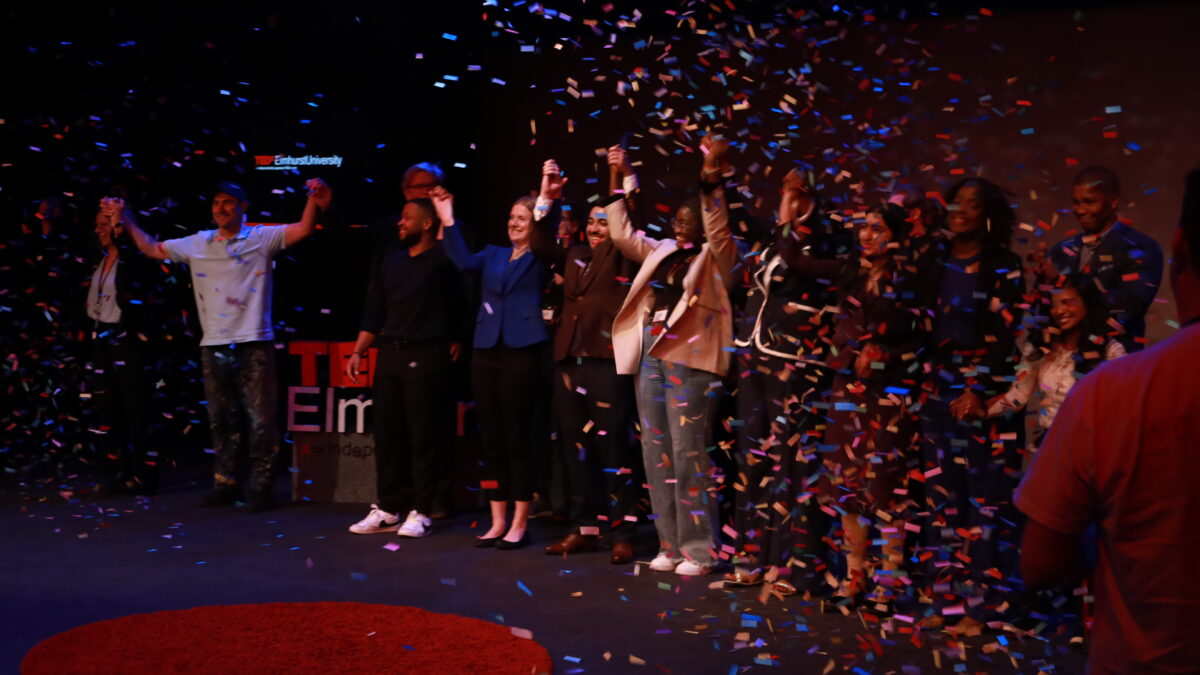 Elmhurst University held their second annual TEDx event on April 1, featuring 12 speakers covering a variety of topics, including diversity, art, love, and second firsts.
The speakers included Felicia Shakespeare, Lukas Munoz, Sarah Strom Kays, Morgan Ogunleye, Angela Williams, Liza Gabrek, Rafael Blanco, Marvin Malone, William Hirstein, Neeraja Kumar, Gena Cox, and Rajee Aerie.
Imagine the first day of class, people walking through campus searching for the right building, the right room. The first day out in the world, right after graduation. The first day of that dream career. EU's 2023 TEDx event's theme was "firsts."
This year's theme was based on the talk of last year speaker Zoya Khan who co-hosted the event with sophomore Zachary Yates.
EU made their own firsts at the TEDx event with their first high school speaker.
Neejara Kumar is a senior in high school. Her discussion, "Walking the Path of Firsts Towards Adulthood," spoke of her challenges through high school with COVID-19, a sudden diagnosis with migraines, and the process of becoming an adult and being on your own for the first time.
An MBA '23 student, Marvin Malone immediately got the audience's attention when he came onto the stage shouting, "Wassup!" 
Malone's discussion, "Speaking to the Crowd," focused on language and diversity. He talked about hiding your true self through professionalism and image, putting a focus on AAVE (African-American Vernacular English), and the challenges African Americans face the moment they begin preschool and beyond. 
Malone referenced studies that showed African Americans and Latinx children scoring lower in English comprehension, but when these tests were done in AAVE, African American students scored equal or higher than their white counterparts. 
Malone's talk was focused on understanding in communication and allowing everyone to be their true selves.
Senior Lukas Munoz spoke in reference to Langston Hughes's famous poem, "A Dream Deferred," with his talk sharing the same title.
Munoz shared the story of his cousin, who was at risk of being deported, but was allowed to stay as a college student because of the DACA act (Deferred Action for Childhood Arrivals).
Munoz shared his own struggles of being an immigrant and teetering on a "twisted seesaw of hope and despair."
He spoke of his dreams of having a stronger support system for immigrant children and going to law school. He spoke of his cousin and the inspiration his cousin installed in him and his family for being the first of them to go to college.
"When you are the first person from your family to do something incredible, you ensure you won't be the last," Munoz said towards the end of his talk.
Many other speakers spoke on how their adversity defined their lives. 
EU alum Rajee Aerie and her discussion, "How Love Can Transform Your Setbacks Into a Superpower," told the audience about her diagnosis with polio at a young age, being adopted, and moving from India to America.
Aerie spoke about her dream of being a model and the journey of achieving that goal, hiding her disability, and finally embracing herself.
Second-year graduate student Liza Gabrek also spoke of her disability with her discussion, "Second Firsts."
Gabrek suffered a stroke when she was 17-years-old. When she woke up in the hospital, she couldn't speak, eat, or walk. She talked about relearning these firsts and recovering. 
Gabrek spoke about where she is today and wanting to be a voice for others with disabilities.