Elmhurst University Women's track team soars to 2nd Place in the CCIW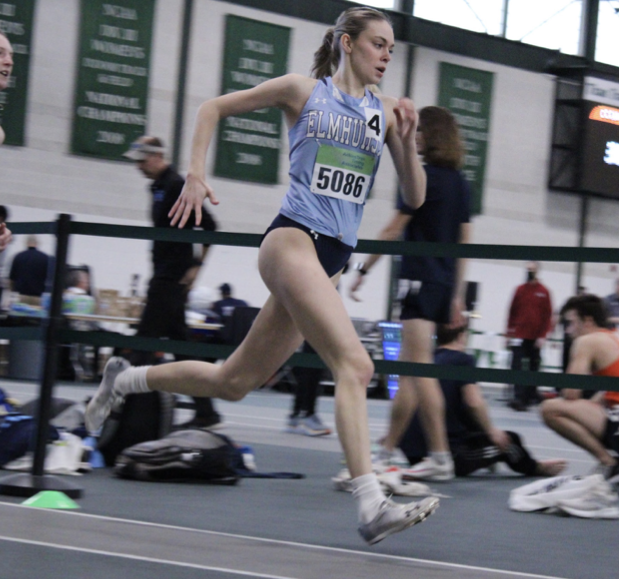 On Feb. 24 and 25, the Elmhurst University track team competed at Illinois Wesleyan for the CCIW Indoor Track and Field Championships, winning second place on the women's side with 141.5 points.
On the first day of the competition, the women's team came out of the gate strong with individual performances. The event started with the pentathlon. Sophomore Sarah Stephens got sixth in the event, which earned the first points for the team.
On top of that, the distance medley relay won the event with a time of 12:26.61, which was seconds faster than second place. Continuing the winning streak in the long jump event, sophomore Francesca Scarabaggio won with a jump of 5.26 meters.
"Winning the women's long jump felt so surreal because I truly was not expecting that outcome from the conference meet," said Scarabaggio. "I was filled with joy and shock that I won first in long jump as a sophomore."
As well as Scarabaggio's win, three other athletes placed in the top nine. Junior Lauren Marshall got fifth, freshman Vanessa Carr jumped her way to eighth, and senior Erin Matthias got ninth.
The team also got points in the pole vault, thanks to junior Kelsey Becker and sophomore Kate Weber. At the end of day one, Elmhurst women were in third place out of nine teams competing.
On the men's side, sophomore Dylan Moran gained three points for the men's team with his sixth-place performance in the 5K run. The men's distance medley relay scored four points through their fifth-place performance.
As for the men's long jump, sophomore Ricardo Martinez had a fourth-place performance with his jump of 6.55 meters.
Day two of the conference came with even more action. In the men's 400 meter dash sophomore Braxston Redmond got third with a time of 50.44 seconds, behind first place by less than a second.
Sophomore Marvin Tchangwa took ninth place in the 800 meter run. Martinez took eighth in the triple jump with a mark of 12.92 meters. Senior Brett Von Schwedler placed tenth in the men's high jump, despite having a foot injury for most of the season. 
The men ended the CCIW Indoor Championships in ninth place.
Starting the second day, sophomore Nakala Nadeau won the women's 60 meter hurdles with a time of 8.76 seconds.
"I thought I wasn't going to win at first, but when I saw that I crossed the line first everything was in slow motion I couldn't believe it and when I realized I tied my PR, I knew I could've ran faster," said Nadeau.
Seniors Ava David and Huda Hussaini also made their mark at conference this year. David won the 60-meter dash with a time of 7.70 seconds, only .07 seconds ahead of Hassaini. The pair then took second and third in the women's 200 meter dash, running 25.29 seconds, David being only .30 seconds ahead of Hussaini.
Sophomore Hannah Schwarz also placed in the 200 meter dash, finishing in sixth. Between those races, David won the 400 meter dash.
"I was very proud of myself for not only competing but doing well in that many events," said David. "I gave my best performance in every event I was in by either making or matching season bests. It gave me a lot of confidence to know I can perform that well on tired legs." 
Senior Alyssa Rafuse had a successful day, taking the win in the mile by eight seconds. Rafuse then ran the 800, getting second. Rafuse also got third in the 3000 meter race.
"As a senior, my goal for every meet has been just have fun and leave with no regrets," said Rafuse.
Sophomore Esther Brown also placed in the mile and 800 meter run getting fifth and fourth place respectively. Freshman Angelina Camaci placed fifth in the high jump with a jump of 1.45 meters.
In the women's triple jump, Carr placed third with a jump of 10.96 meters. With only one race to go, the women's team was only one point away from first place.
While preparing for the notoriously fun and anxiety-filling 4×400 relay, athletes lined the track shouting and chanting for the runners as they raced by. Other CCIW team joined EU's support, cheering with the Bluejay athletes and supporters.
"Running a relay with a great team is unbeatable," said Rafuse. "I love warming up with them, joking around before the race starts, and just having laughs to get rid of the nerves. Plus it was one of only a few events going on that day, so the whole team was there cheering, which is always fun."
While the 4×400 had a time of 4:03.04, they were unable to beat North Central College. The women's track team ended the CCIW indoor conference with 141.5 points, only 3 points behind North Central College.
The track and field team focuses on empowerment and friendship alongside dedicated coaches which has created huge growth for both teams.
"Winning was great, don't get me wrong but I love my team with my whole heart," said Nadeau. "To know that I will have a family to fall back on and people who I pray for every night."
"My favorite part of the conference is feeling the comradery between the bluejays," said David. "The energy is always so high and supportive between everyone. It's such a fun experience to compete when everyone is so invested in performing well for each other."
David won CCIW Indoor Female Athlete of the Meet. EU coaches shared Coaching Staff of the Year with North Central Coaches, winning for the second year in a row for the women's team