Elmhurst University's mens basketball team shatters the glass, but not the court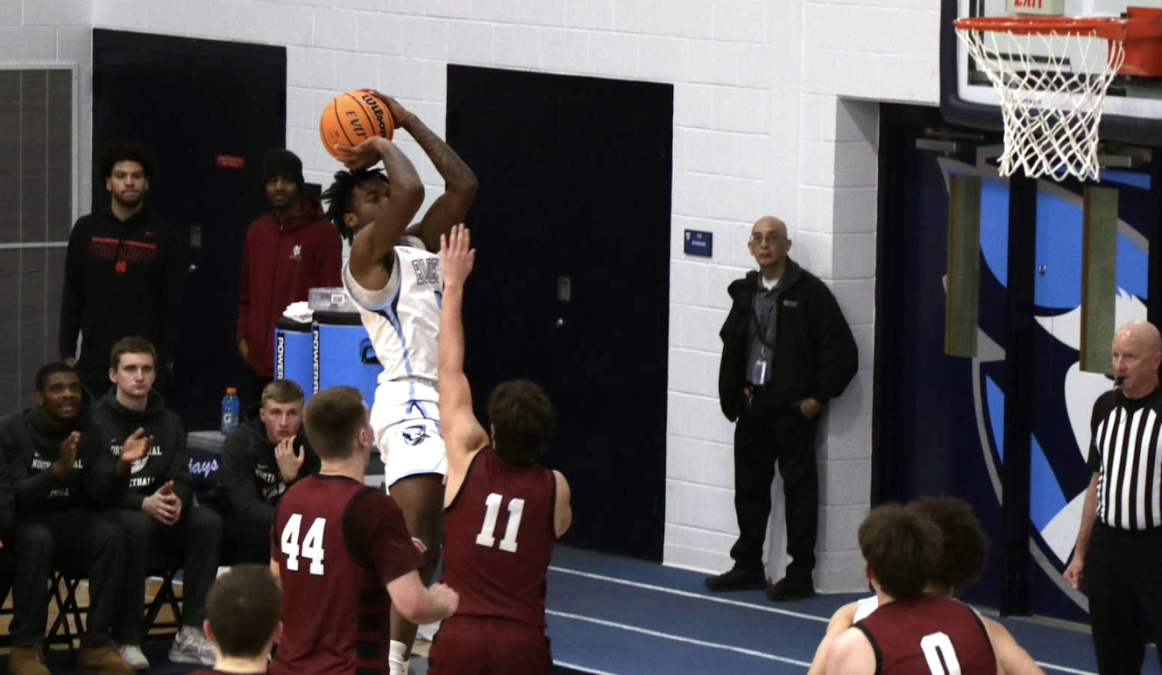 Vibrations resonated throughout the stands as the crowd stomped their feet in time, chorusing to the Elmhurst Bluejays, "Defense, Defense."
The energy caught everyone as the Elmhurst men's basketball team won the first game in the CCIW Tournament against the North Central Cardinals, 84-80, but they lost the Finals to North Park, 75-83.
The Bluejays have had a lot to live up to with the new banner raised in R.A. Faganel Hall, dedicated to the 2022 NCAA national runner-up team at the beginning of the season.
People questioned the losses of former great players that were a key component to last year's success, but no one knew what was in store for the season.
The team looked extremely promising winning their first five games of the season, but their streak was broken by their first in-conference opponent Illinois Wesleyan University. 
Conference play was more of a struggle this year for the Bluejays as they went 8-8 in the regular season.
However, the biggest story of the year wasn't beating a rival or winning a championship. It was from senior Ocean Johnson shattering the backboard in the game against North Park University on Feb. 11. 
Immediately after Johnson came crashing down with the rim and shattered glass, Bluejay fans erupted and chaos ensued. The clip went viral in nearly minutes and was featured on sports networks such as Overtime and Sports Illustrated. 
After some time passed and the crowd began to settle, the following question arose: Where are we going to get a new backboard? 
After some time, it was announced that there was a spare backboard in the gym and the University's maintenance team got right to work. The game then took an hour-and-a-half break while they tried to hoist up a new backboard.
 North Park ended up winning the game in double overtime 93-90.
Johnson was interviewed by Chicago's WGN9 and was asked about what it was like to have an internet and backboard-breaking dunk. 
"I just went up for a normal dunk, and the next thing you know, I hear the glass shatter and I was on the ground," said Johnson to WGN News Now.
Even with such a viral event, the Bluejays still have to make a strong run in the CCIW tournament. 
Newly named CCIW all-conference first-team senior Johnathan Zapinski and second-team junior John Ittounas look to lead the Bluejays back into the NCAA tournament for another banner-chasing season. 
The Bluejays won against Wheaton in the Semifinals, 76-58, on Feb. 24. Elmhurst ended the CCIW Championship tournament with a 75-83 loss to North Park on Feb. 25. The Bluejays continue their season at the NCAA Division Ⅲ Selection Show on Monday Feb. 27.